Cleanse. Tone. Moisturize.
I admit that I skip the second part of skin regime because I see no reason for me to use a toner and just an additional expense not until I become worrisome with too open pores I have on my nose because of the facial pricking. I believe that toners are just for people who have oily skin and I just have the normal one.
While I am looking at Missha for blackheads removal, the SA told me to buy a toner for my pores. Upon checking the box...
Missha Super Aqua
Pore Clarifying Toner
Purifying and Tightening Skin Toner
Sebum control
- containing willow bark extract
- it cares aged skin cells and help control sebum, leaving the skin firm and matte
Pore tightening
- containing camellia flower extract and laricyl, it tightens open pores
Soothes the skin
- the extracts of black tea, angelica and cactus help to calm and soothe the skin
So, what is toner really?
"Traditional toners consist of moisturizers, oils and extracts that help soothe your skin. Astringents, which are generally alcohol-based, tighten the skin and pores and remove oil. Fresheners work similarly to astringents by tightening the skin, but they are made of ingredients like caffeine and green tea instead of alcohol." from health.howstuffworks.com
If I will based the definition, Missha Super Aqua Toner falls to the category of astringent rather than a toner. Even if I am a woman, I still have this confusion with the skin care products so let me just share my own experience with Missha's toner.
What can I say?
I find their packaging an elegant one. From sky blue on the top to the faded white on the bottom, the box is really attractive to my eyes. This 150 ml bottle is P 1,050.00. I guess what really makes this one expensive is because of the bottle they used because it's heavy and thick. Lol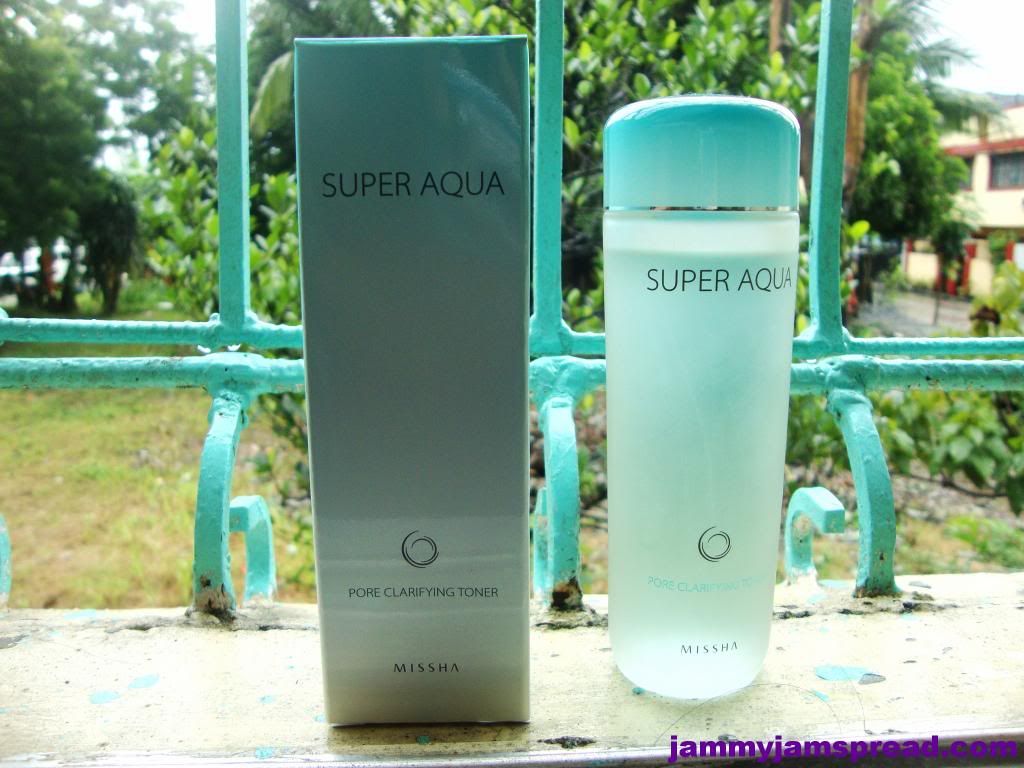 The smell is addictive and I get the feeling like my skin are already freshened even just with the smell. Although I can smell the alcohol, the extracts are much dominating like it's floral scent.
After using the Aqua Soap for cleansing my face, I blot the Missha's Blackhead Remover to my nose and rinse. Next in line with my skin care is this toner. Every morning, I only use my fingers for application for full absorption while I use the cotton pads during the night to remove the dirt and makeup that are not removed by my cleanser as advised by SA. Now I feel my skin is more fresh, soft, and pampered by using this toner and my pores are somehow tightened. If this isn't really necessary for blackheads remover, I really wouldn't purchase it but I'm satisfied with it, anyway! :)